NEXT CONCERT
SUNDAY 17TH NOVEMBER 2019 3:00PM – THE SKY AT NIGHT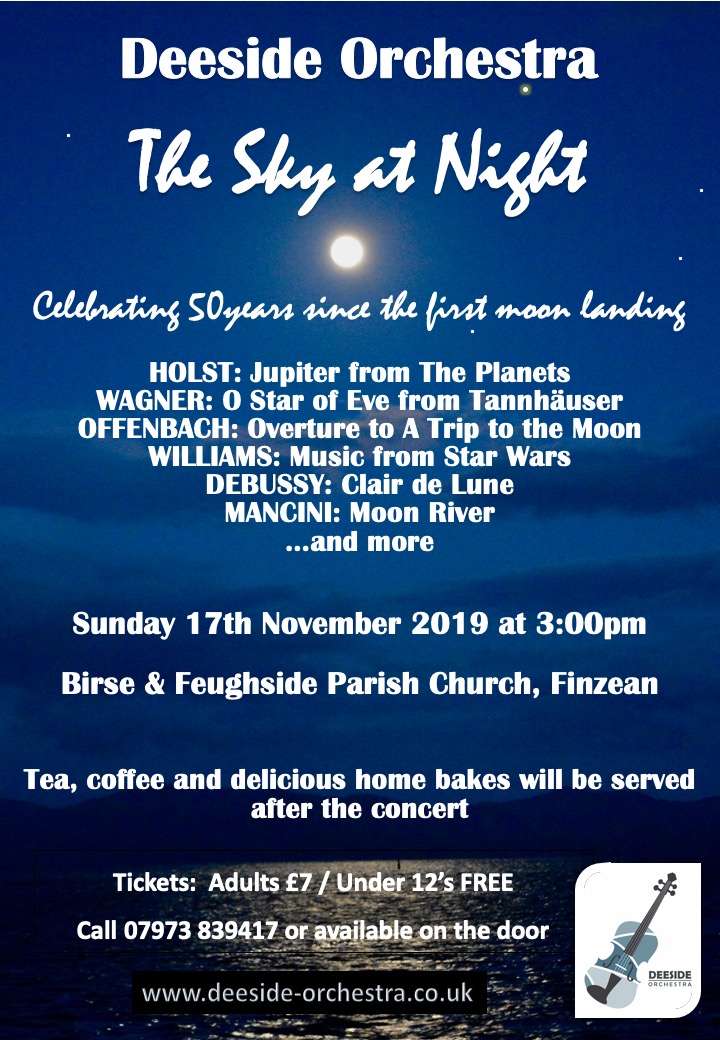 Our Autumn concert, will be held at Birse & Feughside Parish Church, Finzean, AB31 6PB.
We will celebrate fifty years since the first manned spaceflight landed on the moon with many well loved classical pieces with an astronomical theme.
The programme will include Jupiter from Holst's Planets, Offenbach's A Trip to the Moon, Sibelius's At the Castle Gate (the theme tune for the astronomy programme The Sky at Night), and Clair de Lune by Debussy. Other popular pieces to be played are music from Star Wars by John Williams and Moon River by Henri Mancini.
Join the orchestra for tea, coffee and delicious home bakes after the performance.
Tickets: £7:00 (under 12's free), available on the door, by calling 07973 839417, or through members of the orchestra.
FUTURE EVENTS
SATURDAY 18TH JANUARY 2020 7:30 PM – IT'S PARTY TIME!
Our traditional party themed event will be held in The Victory Hall, Aboyne and will include light music, songs and ceilidh music. More information to follow.
PREVIOUS 2019 EVENTS
OCTOBER 2019 – LEGION SCOTLAND CONCERT
This concert was performed in conjunction with the local branch of Legion Scotland and singers from Studio-Dee, and remembered key events from the last 100 years through music, words and song.
JUNE 2019 – THE DEESIDE ORCHESTRA SUMMER CONCERT
On 15th June the Deeside Orchestra  celebrated the music of Felix Mendelssohn in its Summer concert, with a programme including Mendelssohn's Violin Concerto in E Minor with soloist Jessica Coleman, Overture "A Midsummer Night's Dream" and Symphony No. 4.
JANUARY 2019 – IT'S PARTY TIME!
On January 12th 2019 the Deeside Orchestra played its traditional New Year Party to a sell out audience. During the concert the orchestra played a variety of light popular music and songs with soloists Moira Docherty and Tara Leiper.
There was also dancing to the Ceilidh music of the Rob McCombie Duo.